Recovery Partners believe a good Work Health and Safety Management System (WHSMS) is the foundation to any WHS strategy in ensuring the health and safety of the workplace and workers are maintained.

---
An adequate WHSMS should be a high priority to ensure that the desired workplace culture of safety awareness, knowledge and compliance to your WHS management system is pursued. A WHSMS should also aim to commit to the continuous improvement of health and safety in your workplace.
We completely customise each WHSMS to your organisation and align it with AS4801, but keep it in plain english and user friendly.
Process:
---
Planning:
Before developing a system for you, we familiarise ourselves with your organisation's culture and structure. We believe that to be successful, the safety system must complement your existing business activities and align with other management systems you have in place.
Development:
Upon determining your needs we set about developing the polices, procedures and other documents that will form the basis of your system. Throughout this process we consult with you and your workers. We do this to ensure what we develop for you will work. Further to this, continual consultation ensures that the transition of ownership from us to you is seamless.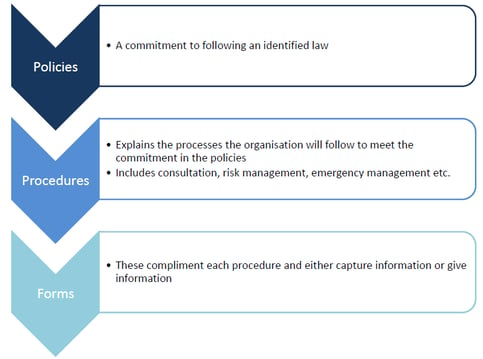 Continual Improvement:
Our partnership approach continues into the implementation phase where we develop strategies that will see your system adopted by your organisation. Your peers, colleagues and employees gain skills and competencies through a staged program of implementation.
Take a look at our Outsourcing Functions here.
Cost
---
Prices are tailored.
Locations
---
Our consultants are based at locations across Australia. Click here for our locations menu for an up to date list of our offices.
Contact Us
---
We welcome your enquiry. Call us on 1300 OHS RTW (647 789) Monday to Friday for all offices or email us on admin@rrp.com.au