Managing Work, Health and Safety is a complex task that can't be overlooked. Staying compliant is vital for Australian employers, as penalties can be steep when breaches occur. It's just not the risk of fines, the long-term cost of injury on a business can be significant.
Why Outsource OHS / WHS?

---
Outsourcing to Recovery Partners allows businesses to focus on their core functions while we support their ongoing success by managing and ensuring they continue to provide a Safe and Healthy Work Environment. (For more information on outsourcing read more here)
Our clients feel comfortable knowing our experts manage their employer obligations and help to keep workers compensations premiums down while maximising workforce efficiency.
We employ a large number of consultants, all boasting a deep yet broad skill base. We are able to call upon particular expertise as it's required; this means you always have senior professionals managing your WHS needs.
Our team:
Are all OHS / WHS experts,

always abreast of changing safety legislation;
Ensure policies are up to date and due diligence is met;
Take the headache out of managing all aspects of OHS / WHS;
All are held accountable by the Project Plan;
Are taken seriously, as they are an external resource your company has invested money into;
Improve morale, as your company is seen to be invested in your workers safety;
Achieve the same implementation results in a few days a week, rather than a full time in-house safety employee.
Need expert safety advice or support at your fingertips? Take a look at our Safety Partners here.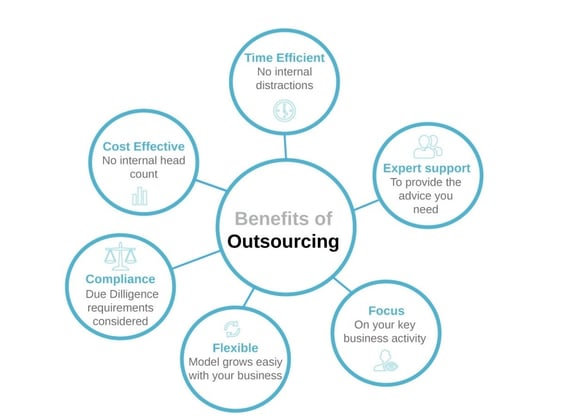 Our OHS / WHS Outsourcing Model:

---
Project Plan
To best assist you to achieve compliance across all activities, we provide OHS / WHS Outsourcing Services that follow a project management approach; the solution is supported by a project plan and project lead.
The project plan can be underpinned by the following five (5) "project pillars":
Development;
Implementation;
Communication;
Risk Management; and
Reporting
Why is this the best way? This plan illustrates the continuous improvement throughout the project. The plan is developed by the Recovery Partners lead consult in consultation with the key client stakeholders and other Recovery Partners consultants.
It includes:
All relevant data and ensure all key client's contact introductions are made within days of the project commencement;
Key activities,
Milestones and list of deliverables; and
The plan will be for a duration of 12 months with monthly formal reviews.
The Project Manager/Lead Consultant will be exclusively appointed to the client and support efforts to ensure the clients safety objectives are achieved.
Safety Activities
Recovery Partners understand the immediate requirement for the Safety Advisor to report to the Lead Work, Health and Safety Consultant and assist the wider HR team in supporting operational safety activities. Recovery Partners consultant will fulfil key responsibilities including specific functions like;
Conducting regular surveillance audits;
Development and maintenance of a risk register. This will prioritise hazards across the business and ensure focus is given to high risk only;
Performing risk management activities;
Development of Safe Work Procedures;
Establish and maintain high risk task registers;
Establish and maintain contractor registers and ensure due diligence is met in their management;
Workplace inspections;
Host safety meetings;
Report generation; and
Training.
Other tasks may involve:
Site Risk Assessments / Audits
This will involve identifying the physical hazards and non-conformance at each site through Workplace Inspections/Hazard identification process. This would include Safe Work Procedure reviews and comparisons with site hazards. It could also include contractor management reviews.
Development of site specific Risk Registers
Hazards identified in above are required to be centralised and controlled. Generally, this is referred to as a Risk Register. The risk register prioritises high risk from low and drives actions required across the business including control reviews. This makes safety real by reviewing high risk plant, chemicals or tasks on a more frequent basis than low risk. This is a legal requirement.
Safety Branding
The intention of branding is to increase awareness and achieve consistency (regardless of site).
Training
All training delivered is tailored to the clients needs and includes:
Development of reports
Regular reports can be developed that measure OHS / WHS and Injury Management objectively. Including:
LTIFR (Lost Time Injury Frequency Rate);
Time lost v hours worked; and
Safety lead indicators.
OHS / WHS Consultant on call
The consultant will be on call to provide general safety advice to the client. The consultant can be available 24/7 to respond to any questions, queries or serious incident that occurs and can ensure appropriate liaison with authorities.
Cost
---
Prices are tailored. Contact us for a quote.
Locations
---
Our consultants are based at locations across Australia. Click here for our locations menu for an up to date list of our offices.
Contact Us
---
We welcome your enquiry. Recovery Partners are able to coordinate for an array of references with respect to our outsourcing services upon your request.
Call us on 1300 OHS RTW (647 789) Monday to Friday for all offices or email us on admin@rrp.com.au