Recovery Partners now offer drug and alcohol testing Australia wide to assist you in maintaining a healthy workplace. This can be offered as part of a pre-employment assessment, or on-site testing.
---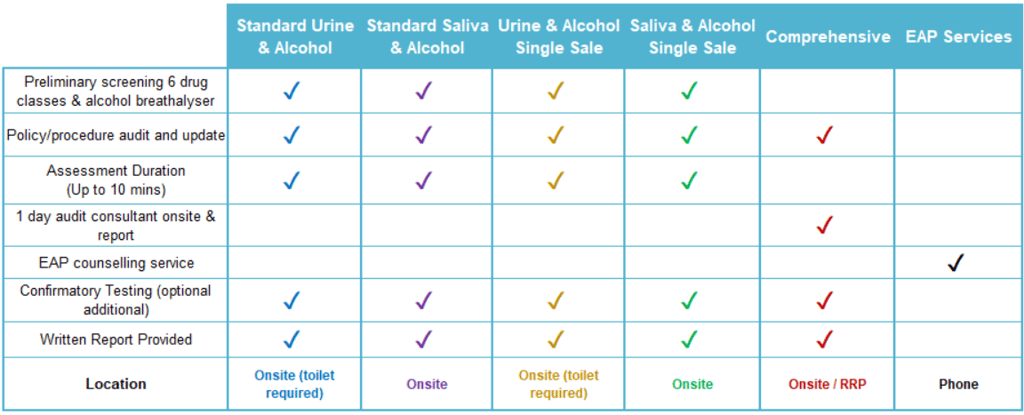 **All of our samples are collected & transported in accordance with AS/NZS 4308:2008 to a NATA accredited laboratory for further analysis if required.
We assess all three aspects of an intensive pre-employment assessment: functional capability; mental state; and possible dependence to a prohibited substance.
What the Service Can Include:
---
Develop and implement a drug and alcohol management program.
Development of policies and procedures related to drugs and alcohol.
Workplace alcohol & drug testing, predominantly using urine and breath sampling methods.
Education and rehabilitation assistance for your employees.
Alcohol Testing
---
The alcohol testing procedure is quite simple and most of us are familiar with the process involved. Staff are required to blow into a breathalyser and the result is recorded immediately.

Prohibited Substance Testing (Drug Testing)

---
Oral swab testing has been the preferred method of testing for Australian businesses as it records a recent reading from those tested, that is, it records any illicit substance such as methamphetamine taken within the last 72 hours.
The Process
---
To be tested, the staff member is asked to insert the mouthpiece into their mouth momentarily. The testing device will soon display either a Negative result, or a Non-Negative result.
A negative result means that the worker can return to work immediately.

A non-negative result requires further testing. If a staff member records a non-negative result, they will be asked to take a secondary test.

If the staff member refuses to partake in a secondary test, it will be recorded as a failed result and the business can take appropriate disciplinary action.

If the staff member partakes in a secondary test which again records a non-negative result, they will be stood down intermittently whilst a laboratory test confirms whether the staff member has recorded a positive result (this usually will take place within 48 hours and will have an associated cost to the employer).

If the laboratory confirms that the staff member records a positive result to a prohibited substance, they will face appropriate disciplinary action.

If the laboratory advises that the non-negative reading is false, the worker will be reinstated and reimbursed for any lost wages during their 48 hour suspension.
Duration
---
Each test (inclusive of both an alcohol assessment and an illicit substance assessment) will take under fifteen minutes to complete.
Cost
---
Prices can vary depending on quantity and frequency of testing.
Locations
---
We offer on site testing Australia wide! You can find our office locations here.