Having an effective safety culture is the result of combined group effort toward values, attitudes, goals and the proficiency of an organisation's WHS systems and procedures.
Recovery Partners Safety Culture Program goes beyond traditional safety measures, exploring approaches that boost the capacity of organisations and their employees to handle activities successfully.
---
Employees are the most important resource an organisation can have, and leaders should be supporting line managers to create and maintain a safe and healthy workplace culture.
Recovery Partners have a team of skilled, qualified, and experienced psychologists and WHS professionals who are available to assist organisations understand and address the issues associated with their employees.
Our tailored program aims to address and implement a positive safety culture within organisations.
Process:
---
1. Safety Culture Profiling By:
Assessment to profile safety related behaviour within the workplace.

Delivery can be either staff survey interview / online assessment.

Psychosocial hazard ID tool for risk profiling.

Psychosocial risks linked to health-related behavioural risk. (These can include personal factors including alcohol consumption, overweight, less frequent exercise, increased cigarette smoking, and sleep disorders.

Consultation with staff including surveying and group meetings
Safe work observations
2. Deliver Report to Management Team
We will deliver a summary of interventions and reccommendations to include (but not limited to) the following:
WHSMS revision / amended / implementation (to include psychosocial risk management) in addition to the standard approach. Existing system may not accommodate or consider psychosocial specific risks!

Development and delivery of customised training

Wellness initiatives

Consultation arrangements

Suggested resourcing, management structure & allocated responsibilities in conjunction with existing HR process (if applicable)
3. Implementation Planning of Agreed Controls

Selection of services based on organisation preference

Structured plan submitted to management and working groups

Timeline plan included
4. Scheduled Timeline to Monitor & Review

Progress reporting to management to include project timelines, updates, feedback and further recommendations.
Measure success of interventions comparing against baseline measurements including safety and injury statistics.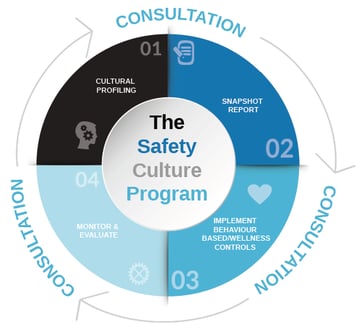 Cost
---
Prices are tailored. Contact us for a quote.
Locations
---
Our consultants are based at locations across Australia. Click here for our locations menu for an up to date list of our offices.
Contact Us
---
We welcome your enquiry. Call us on 1300 OHS RTW (647 789) Monday to Friday for all offices or email us on admin@rrp.com.au